Swarf is basically steel debris that is arising from using saws, abrasive discs, drills angle grinder, and so on.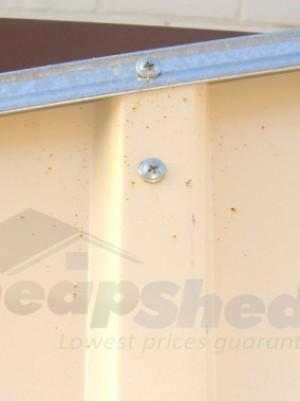 How to Avoid:
Swarf particles that land on the surface must be cleaned off as soon as possible. If left on the surface, the small steel particles will corrode and cause rust stains which can cause significant visual damage to the shed, particularly on light Colorbond® colours or even Zincalume®.
Caution needs to be taken with screws and any other discarded steel objects (such as nails, rivets, bolts, and nuts, or even drill bits). If those objects are left on the surface, they could cause similar damage.
How to Clean Swarf:
Swarf damage is relatively easy to avoid.
If you are in a situation when it is too late and you already have stains on your shed, then here are a few tips that you can do.
Mild swarf staining:
Household washing up detergent used as per directions should remove mild swarf stains
Note: acidic products such as Metaphos AR67, Deixodine must not be used on  Zincalume® steel or galvanized steel as it will cause corrosion.
Severe swarf staining:
We recommend you contact the manufacturer of the product or the steel manufacturer to get advice on severe swarf stain removal.
There are methods that can help to remove severe stains however, they are outside of the scope of this article.
I hope the above will help you to avoid swarf staining and you enjoyed this article.
Please note: Colorbond® and Zincalume® have registered trademarks of BlueScope Steel Limited.
---